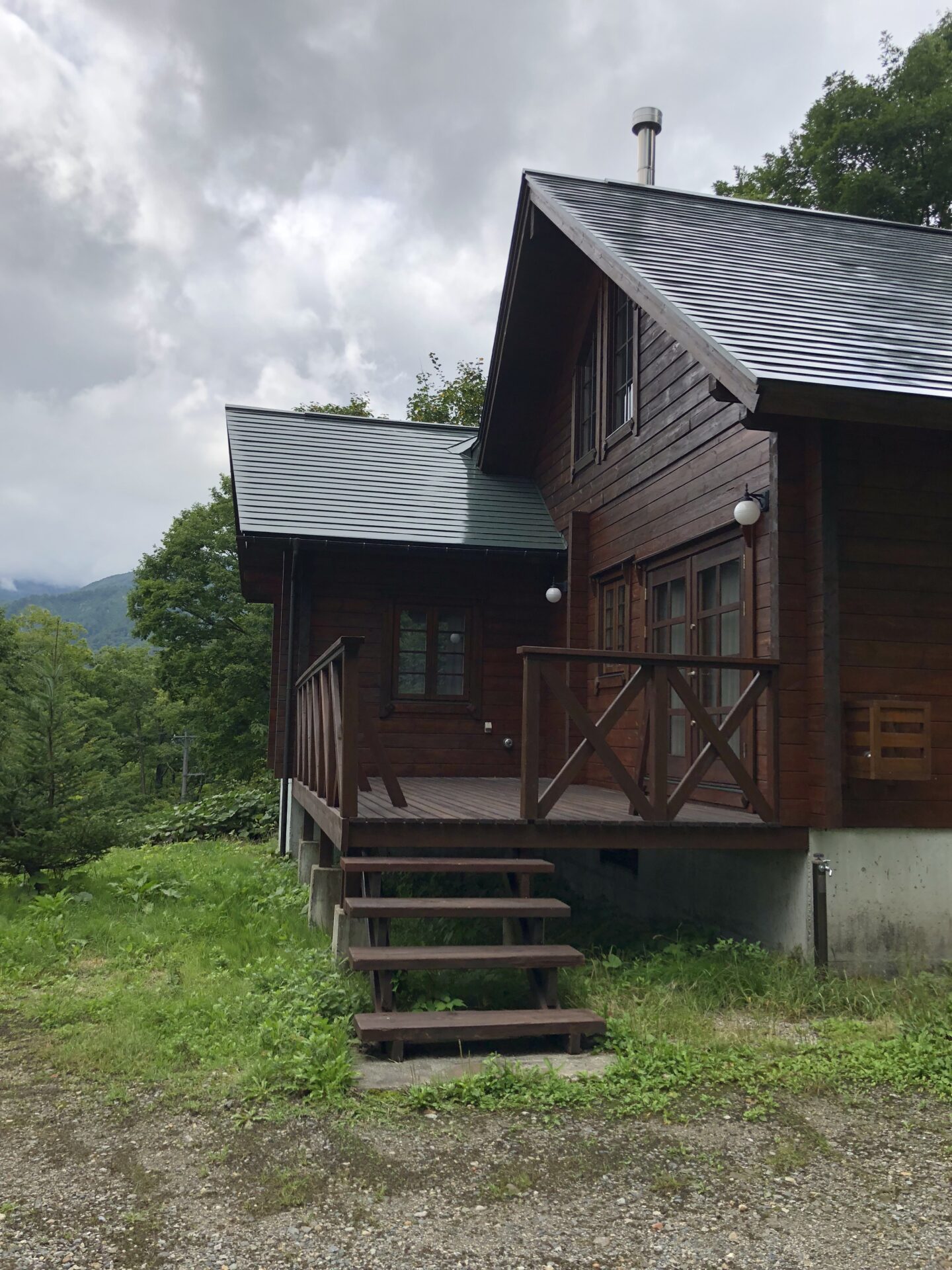 Tsukimi Cottage Hakuba
8 Guests /

0 can be added /

4 Bedrooms /

1 Bathrooms /

0 Showerrooms /

1 Toilets /

2 parking space /

NG

NG
Come and enjoy the charm of our self catering…self contained cottage set in the woods of the Donguri Village, in the beautiful village of Hakuba, Nagano..home to the premier events of the 1998 Winter Olympics.
Donguri Village is located high at the foot of Mt. Hakuba in a beautiful forest of deciduous trees such as Quercus crispula and beech. As the name "Donguri" implies, the entire area is covered with acorns and other deciduous broad-leaved trees, and known to be one of the beautiful areas in Hakuba with spectacular view on the southern slope of Iwatake Mountain.
Since this area will have deep snow in winter, Tsukimi Cottage is offered during spring to enjoy the fresh green, summer for a cool refreshing time, and autum for the exciting experience of the beautiful colorful woods.  Tsukimi Cottage has everything you'll need for great holiday for up to 8 people at a very affordable price.
Tsukimi Cottage is a wooden, warm & cozy, self catering, self contained cottage with a large deck to enjoy the view.
The cottage is great for a family with kids, or a group of friends and can comfortably accommodate up to 8 people in the four double bedrooms.
The entry way opens into a lobby area, then into an open plan living dining area, with spacious space for everyone to relax.
The kitchen has modern appliances with an gas hob stove top, grill, microwave, oven, fridge freezer and all the kitchen utensils you will need.
There is a downstairs bathroom, vanity and laundry space and a separate toilet.
Heading upstairs there are three double bedrooms, two with 2 single beds and one with a double bed.
There is large raised outdoor deck area with BBQ, table and chairs.
The cottage is beautifully furnished with plenty of space for everyone to relax.
Tsukimi Cottage has a large flat screen TV in the living room and the entire cottage has high speed broadband WiFi, perfect for staying connected with your own laptop or smartphone.
To see more of the cottage and the paradise we live in…Hakuba, please check out the pictures below.
About bedrooms and beds
About the facilities
Dishwasher
Refrigerator/Freezer
Coffee machine
Rice Steamer
Toaster
Grill
Microwave
Oven
Kitchen stove
Cooking utensils
Dishes silverware
Sauna
Washing machine
Dryer
Hair dryer
Iron
Vacuum
Heating
Air conditioner *4
Fan
Smoke detector
Fire extinguisher
English TV
Japanese TV
Apple TV *2
Chromecast *2
Fire TV *2
Smart TV *2
Theater set
Ping-pong table
Soccer game
Working space
Storage room
Garden
Baby-cots(Free) *1
Baby-chairs (Free) *1
Garden_set/BBQ Grill *3
Free WiFi
House_manual
*1 Please order at the time of booking. *2 Please use your own account for each streaming service. *3 Only available during the green season. Free of charge if the room can be cleaned and restored to its current condition (for paid set options including cleaning, charcoal, nets, etc., please click here). *4 Air conditioning may not be installed in all rooms. Please check the description of the holiday home for more information.
About the amenities
Dish washing liquid
Dish washer powder
Kitchen paper
Plastic wrap
Coffee filter
Kitchen towels
Kitchen sponge
Garbage bags
Bed linen
Towel set
Body soap
Shampoo / Conditioner
Hand soap
Toilet paper
Tissue paper
Laundry detergent / Softner
Guide books
Maps
Shuttle time tables
Booking widget b24_widget_6512071f983c0
SPRING SUMMER AUTUMN VALUE
Apr 1 – Nov 30
¥49,500/night
OFF PEAK WINTER
Dec 1 - Feb 28 *Excluding peak
¥72,600/night
PEAK WINTER
Dec 10 - Feb 12
¥85,600/night
WINTER VALUE
Mar 1 - Mar 31
¥59,400/night
Access map
Hokujo, Hakuba-mura,Kitaazumi-gun, Nagano-ken, Japan 399-9301 (Donguri Area)
About the rate
minimum number of nights: 3 nights (December-March), 2 nights (April-November)
Rate for up to 8 ppl. (children and infants included).
10% Sales tax is included in the rate.
5% Booking fee will be applied to the total accommodation cost.
Payment method:
For bookings from December to March, payments can be made by credit card or bank transfer in your local currency  (The currency will be automatically selected by your home address) by a payment system provided by Flywire, or by PayPal.
From April to November, payments can be made by credit card only.
Damage security pre-authorization:
At check-in, you will be required to sign a credit card pre-authorization form to cover the cost of any damage to the property during your stay.
Payment schedule
From December to March, 50% of the total amount is due at the time of booking, and the remaining balance is due 30 days prior to the arrival date.
From April to November, please register your credit card details at the time of booking, and 10 days prior to the arrival date, the total amount will be charged to the registered card (If your arrival date is within 10 days, we will charge you within a few days of your booking.)
Cancellation Policy
From December to March, 100% of paid prepayments refundable when cancelled 30 days prior to arrival date or earlier (Please note that teh booking fee is non-refundable), 0% refundable if cancelled after.
From April to November, for cancellation after 10 days prior to arrival date, there will be 100% cancellation fee.