Information on ski resorts in the Hakuba area
Information on ski resorts in the Hakuba area

Information on ski resorts
in the Hakuba area
HAKUBA VALLEY is located in the foothills of the Northern Alps in the northern part of Nagano Prefecture, surrounded by magnificent mountains.
It was the venue for the 1998 Nagano Winter Olympics and today is an international mountain resort visited by many winter sports enthusiasts from all over the world who enjoy winter sports.
The spectacular mountain terrain, created by nature, stretches from the 3000m-high Northern Alps and is covered with abundant, high-quality powder snow.
From well-maintained slopes where beginners can relax and enjoy themselves to long cruising runs with a total distance of 8,000 m, there are 10 unique ski resorts where you can enjoy a wide range of skiing.
The 10 ski resorts are rich in individuality and allow you to enjoy your skiing to your heart's content.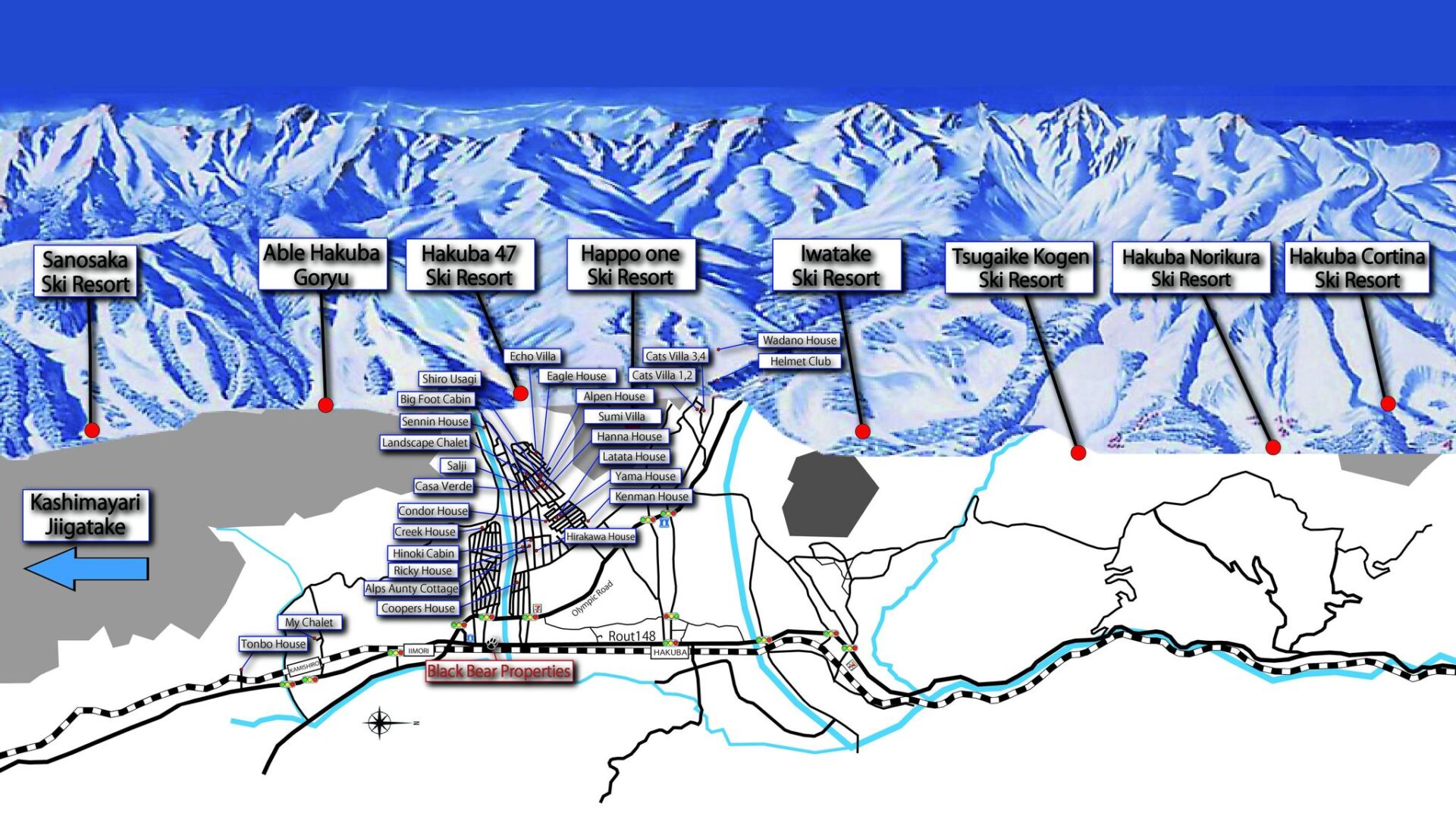 Hakuba Valley Tickets
You can purchase your lift tickets (IC card tickets) in advance online!!!
All mountain area passes, "Hakuba Valley Tickets" are available, as well as tickets for individual ski resorts.
* please note that for Jiigatake and Sanosaka ski resort, you will need to buy your tickets at the ticket center

HAKUBA VALLEY TICKET Notes
Credit card (Visa & Master) payments only.
You will receive a QR code and a pick up code to receive your ticket at the ticket center or the SKIOSK vending machine.
Once you buy a lift ticket, since it is a IC lift card, you can reuse it repeatedly in Hakuba Valley by recharging the tickets online. You can get on the lifts without dropping in at the ticket center or the SKIOSK vending machine on the day of use.

Ski and snowboard lessons
Black Bear Properties recommend the following for lessons,
and you can book directly with them or we can arrange them and have the vouchers ready for you on your arrival.
For us to arrange your lessons, please let us know the name, age, gender, level,
on what dates/time you want to take which lessons, and your allergy information.
Please pay for the tickets on your arrival at check-in by cash,
or pre-pay before your arrival by credit card from the secure link we can send you.